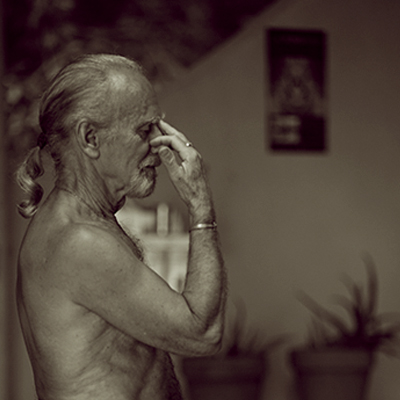 Hiya,
When I say that David Goulet has been doing yoga for a long time, I mean a LONG time – like he started back in 1969 – and his practices have meant he has maintained optimum health and vitality. Plus he has helped numerous people over the years reverse major disease and even terminal illnesses.
David is the founder of Pyramid Yoga in Koh Phangan, and has developed a practice he calls Chakra Yoga. He started practicing hatha yoga in 1969, and completed an extensive yoga training at Ananda Ashram in India in 1972, under the tutelage of Swami Gitananda, who had studied yoga in his teenage years with Ram Gopal Muzumdar (referred to in Yogananda's Autobiography of a Yogi as "the Sleepless Saint.").
Swami Gitananda also studied medicine in England, and practiced in USA and Canada, so brought this insight into his traditional practices.
David is in his 70's, healthy and vital and recently has his biological age measured, which was 25 years younger than his birth age. He is a man that practices what he teaches. If I was ever seriously ill, I would head off to Thailand to spend time under David's tutelage, and work on reversing my illness.
Pyramid Yoga: www.pyramidyoga.com
Chakra Yoga: chakrayoga.com
David's Full Bio on YouTube (My Yoga Story)
I think you will enjoy this conversation, and I intend to get David back for Round 2 in the not-too-distant future.
Enjoy.
Carl