Group Coaching & Mastermind Program | 6-Months | 8 People Max | Starts 1 March 2024
Are you ready to ask for the right help, for an extended period of time (lasting transformation takes time), to create your pathway to a Successful, Joyful and Fulfilling Life?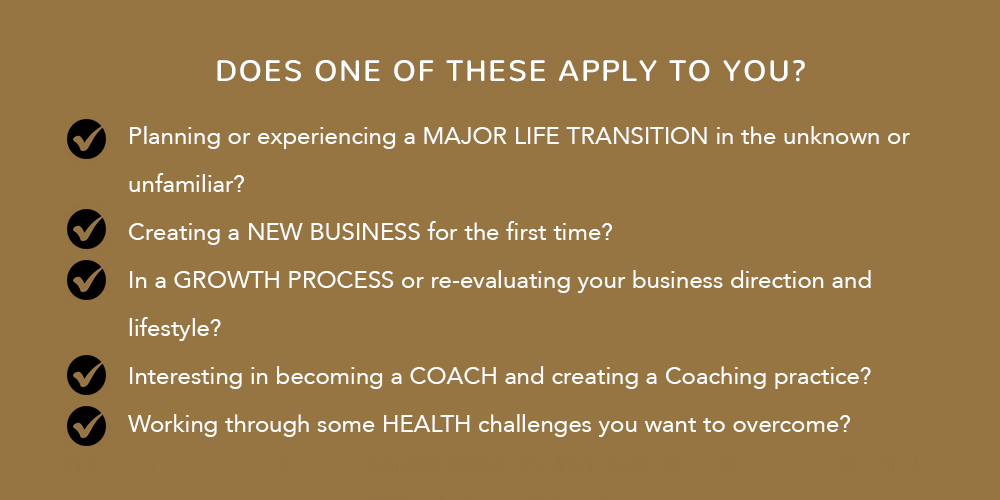 WHAT 16-YEARS COACHING HAS TAUGHT ME (CARL):
MAKING MAJOR LIFE CHANGES, CREATING LASTING TRANSFORMATION, OR DOING SOMETHING 'NEW' (OR ON A NEW SCALE), IS POSSIBLE, BUT IT'S NOT EASY.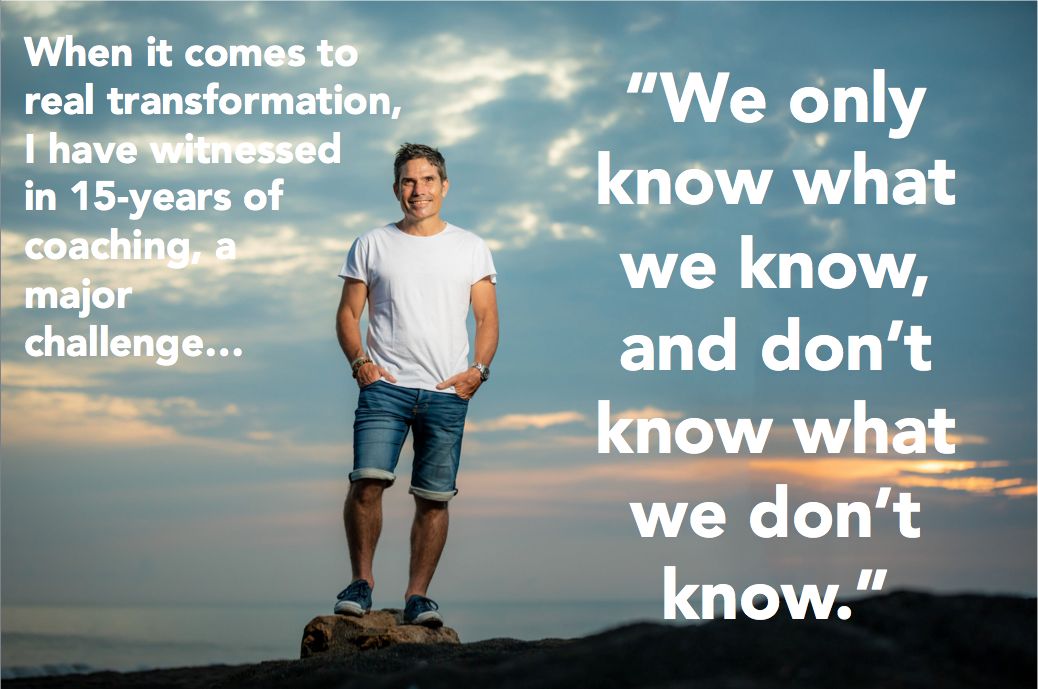 ARE YOU READY FOR A PROFESSIONAL STRATEGIST, COACH, GUIDE, TEACHER, TEAM AND HELPING HAND FOR 6-MONTHS?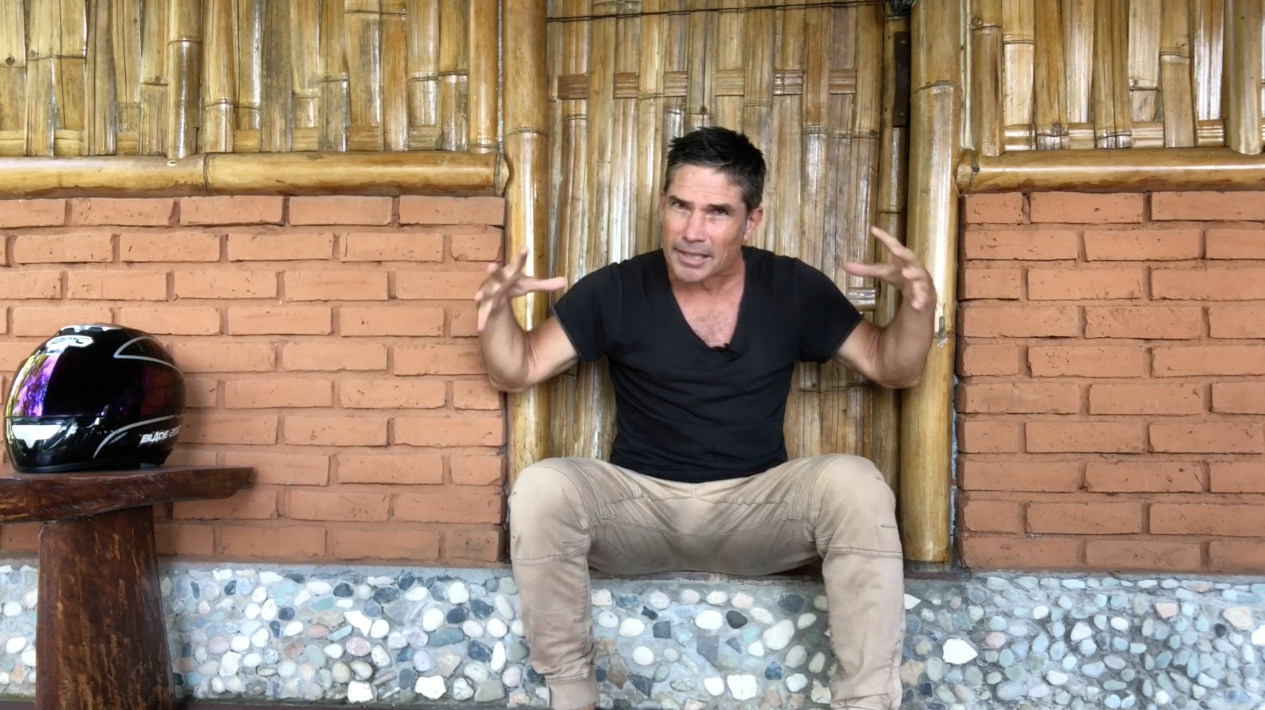 Here is The Basic Plan
There will be a TEAM of 8 AWESOME HUMANS (8 max, 4 min) who will work together over a 6-month period. There will be Individual Tailored Coaching, plus Group Coaching & Immersion, and the Plan will be delivered in 3-parts (but not too rigid, and with possibility for restructuring as team and individual needs dictate).
It will include a combination of:
Online Workshops and Coaching Programs
1-on-1 Deep-Dive Coaching Sessions
Traditional & Modern Mind & Body Practices
Group Mastermind and Strategy Sessions
Guest Presentations and Intimate Q&A Sessions
PLUS Full Access to Carl and a closed Online Group.
PART 1: Personal Psychology (Consolidation)
The aim of the first 2 months is to get to know what drives you and disrupt anything that is not serving you. We really want to understand WHO YOU ARE ('Know Thyself')
When you better understand your fundamental beliefs and values, we will do some NLP work to 'SHIFT' any limiting beliefs.
Part of this this phase will also be integrating a robust and proven set of Morning Rituals that will set up for a Successful day, and the foundations of a Successful life.
We will work through a specific programs called Ignite Your Inner Greatness which is a 30-day challenge, designed to shine the spotlight on you, so we can better understand what is working and what is not. Then change them.
We will practice a very traditional 14-day yogic kriya to release emotional and energetic blockages (and anything holding you back) at a very deep level, in order to reprogram the autonomic nervous system.
The 1-on-1 Deep-Dive Coaching Sessions will be looking at processing any trapped emotions, limiting beliefs, or trauma, that are relevant to your own life journey. I will use a range of different NLP tools and therapy modalities for this.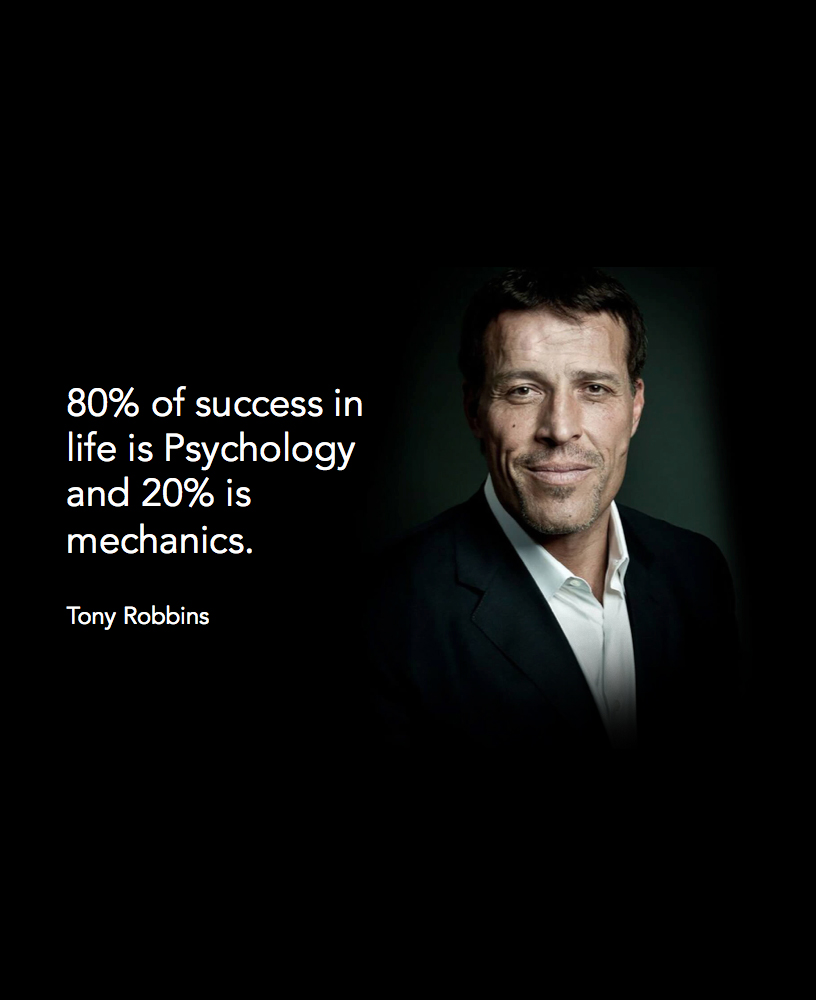 IN ORDER TO SUCCEED IN LIFE AND IN BUSINESS, IT IS ESSENTIAL TO WORK ON YOUR PERSONAL PSYCHOLOGY OR MINDSET
WE CALL THIS "BECOMING A NATURAL SUPERHUMAN"
BECOMING A NATURAL SUPERHUMAN IS AN ESSENTIAL PART OF THE 6-MONTH COACHING PROGRAM AND WILL HELP YOU CREATE AWESOMENESS AND OVERCOME ANY OBSTACLES ON YOUR PATH.
PART 2: Becoming a Natural SuperHuman (The Build Up)
In this second phase we will build on the foundation you have already created and then make things a little more individually specific to your chosen path.
We will do this by building up to and drawing out (plus refining) the virtues and skills of a LEADER, WARRIOR and SAGE, which already exist within.
The Leader is a visionary, awesome decision-maker, creative genius and strategist.
The Warrior is resilient, always ready, in great health and is able to get stuff done (even when they don't feel like it). They practice a kick-arse set of morning and Daily Rituals.
The Sage brings wisdom to your life so you get to experience joy, fulfillment, connection and a deep sense of meaningfulness. Plus a heightened sense of intuition.
In this phase we will also be digging deeper into your personal PHILOSOPHY and PURPOSE. And that could also include a Life Purpose Reading by Kate Williams (a psychic channel).
The monthly 1-on-1 Deep-Dive Coaching Sessions can start to get much more specific at this point – whether that is more inner work (and processing) around limiting beliefs or past trauma, or getting right into specific business or transitional stuff.
There will be (awesome) Guest Presenters joining us around this period too.
This is what "BECOMING a Natural Superhuman" looks like in practical every day action.
You are more resilient, anti-fragile, BULLETPROOF and with a sense of STABILITY and groundedness, plus with a CONNECTION to something greater than yourself.
You have more clarity about your personal PHILOSOPHY (beliefs and core beliefs).
You have a clear sense about what your PURPOSE is (for now).
You have deeper CLARITY about what you need to be working on, and HOW to do it.
You start to feel a bit like a CREATIVE GENIUS.
You INTUITIVELY sense or know what is likely to be your best course of action.
You not only understand your TRIGGERS in life, but they no longer 'push your buttons'.
You and integrate DECISION-MAKING MASTERY into your professional and personal life.
You are ready, willing and able to fully TRANSITION into something new (or at a new level) and step through the discomfort zone to the land of infinite possibilities.
One of your conscious goals is FINANCIAL INDEPENDENCE and financial bulletproofness, so you are not adversely affected by any external crisis.
You live life COURAGEOUSLY – personally and professionally.
To become a Natural SuperHuman we will draw out, refine and up-grade your inner LEADER, WARRIOR and SAGE.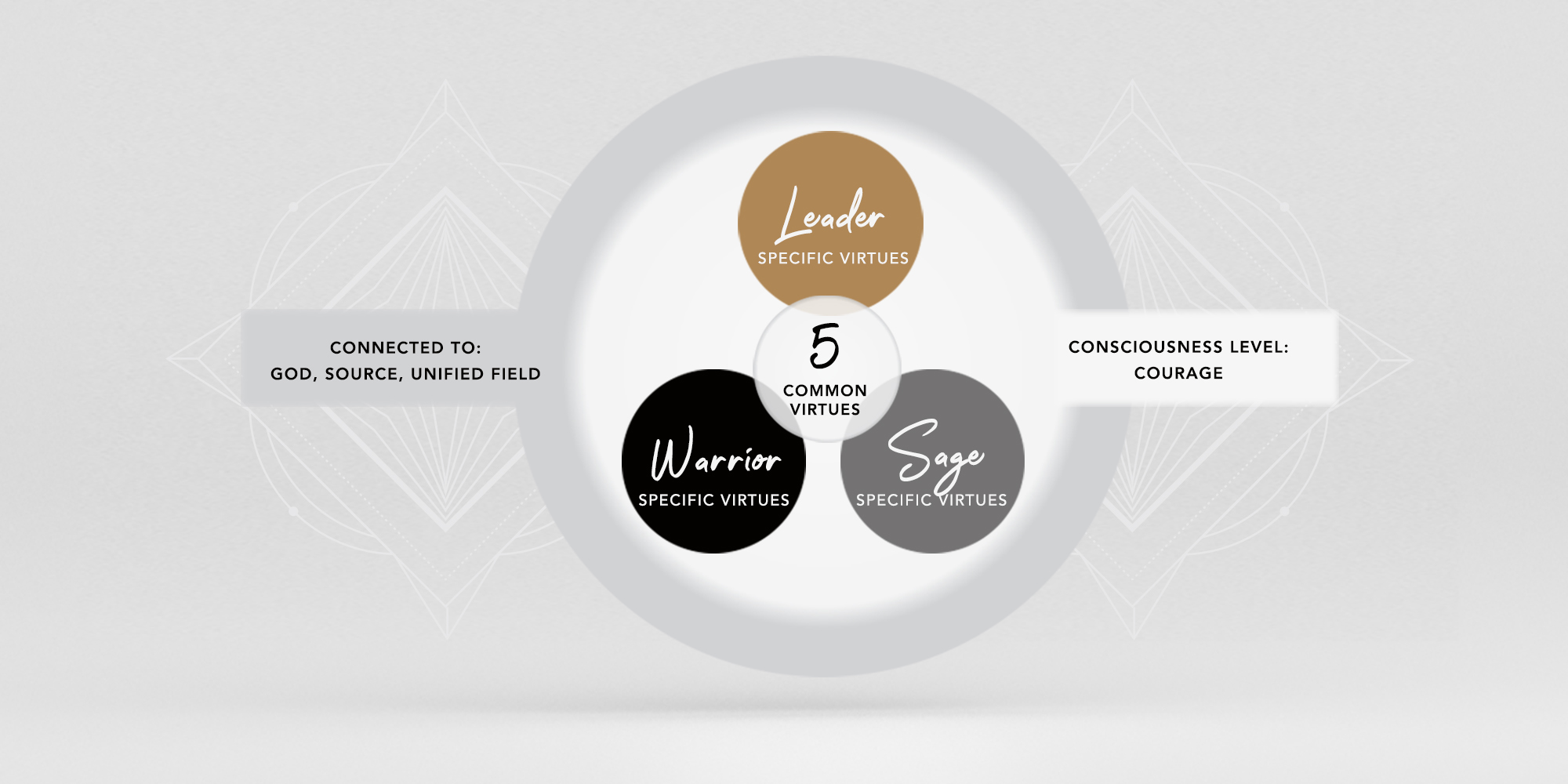 PART 3: Health + Integration + BREAKTHROUGH!!
The last phase of our time working together will be ensuring that your foundational habits are fully integrated, your strategic plan for enabling your vision is effective, and you continue to build up an even higher level of resilience for all areas of your life – health, financial, relationship, professional, and psychological.
There will be an on-going focus on HEALTH and the generation of vitality so you have the ENERGY to bring your PURPOSE fully into the world in a highly impactful way.
We will also continue to work on your individual businesses, relevant strategies, product development, skill upgrades, and the relationship between your stories (beliefs) and their impact on your professional choices and results.
There will be (awesome) Guest Presenters joining us and you will be doing a detoxification process, and water-only fasting.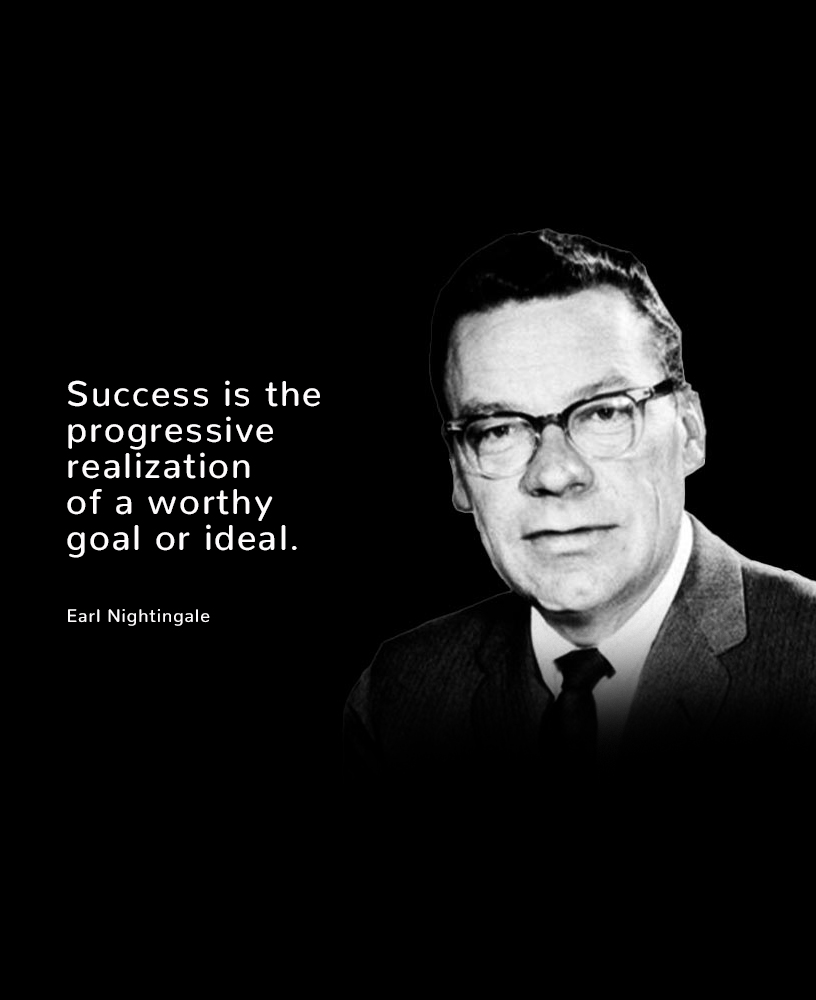 We will also be exploring if you have truly "WORTHY" GOALS
If you are not progressively working towards "worthy" goals, it is unlikely that you will experience deep levels of meaningfulness or fulfillment (and even true JOY).
And when we talk "worthy" goals we mean – good for you, good for others, and good for the greater good. A worthy goal is also aligned with your unique purpose on planet Earth, which means 'the universe' becomes your partner in success (i.e. you manifest bigger and quicker).
Are you ready to create & progress towards your uniquely WORTHY goals?
The 3 (Essential) Parts of Business Success
This is a very basic model of the 3 essential elements to business success, and is the general framework we will use when determining what might need to be focused on for the best ROI (personally and professionally).
Many of the past participants have used this program to start a business, upgrade their business, or make a major transition in their life. This is through the 1-on-1 Coaching Sessions, and the Group Coaching & Mastermind Immersions.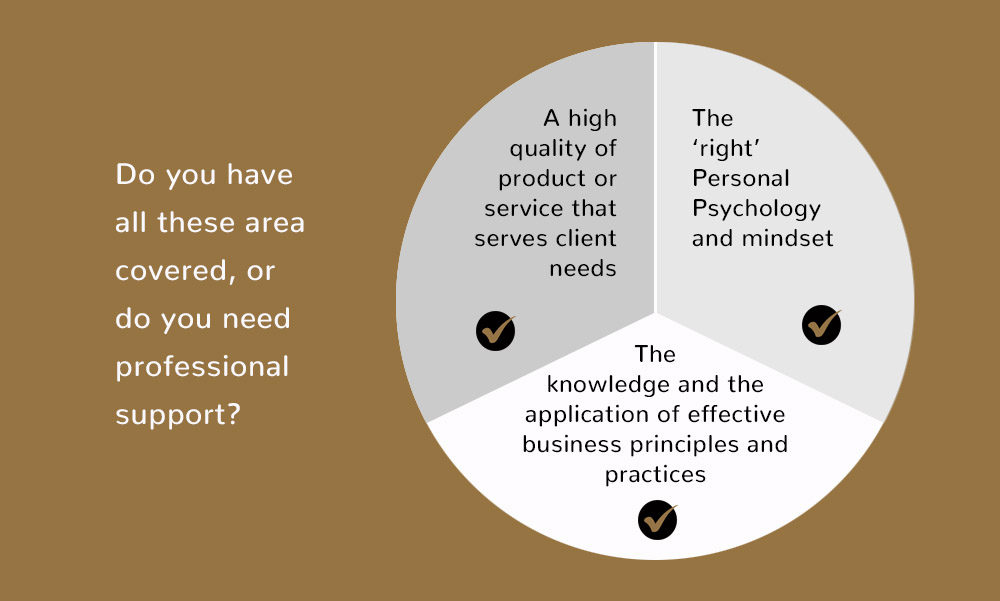 A Typical Month
PART 1
Online Program (Ignite Your Inner Greatness: A 30-Day Challenge) | 4 x 90-min Group Coaching Sessions | 90-min 1-on-1 Deep-Dive Coaching Sessions (VIP monthly & Gold bi-monthly) | Traditional yogic kriya
PART 2
Online Program (Become a Natural SuperHuman) | 4 x 90-min Group Coaching Sessions | 90-min 1-on-1 Deep-Dive Coaching Session (VIP monthly & Gold bi-monthly) | Guest Presenters | Meditation practices
PART 3
3 x 90-min Group Coaching or Mastermind Sessions | 90-min 1-on-1 Deep-Dive Coaching Session (VIP monthly & Gold bi-monthly) | Guest Presenters | 30-Day Special Meditation challenge | Water-Only Fast (1-3 days)
The time for the Group Sessions will generally be Thursday, 4pm or 5PM Bali time. The timings for the Individual calls are more flexible.
Check out a timezone convertor here.
The 1-on-1 Deep-Dive Coaching Sessions
The 1-on-1 Coaching sessions will be 100% focused on what you need most. It could be any of the following:
How to process and learn from past trauma
Inner child work & Timeline Therapy
How to deal with triggering events, thoughts and emotions
Business strategic planning & business building
How to write a book, create a product, or run and event (live or online)
How to become a Coach
How to market your business and create clients
How to transform your health and vitality
How to become a 'high performer'
How to transition into a new career, profession or business
How to deepen your intimate relationships
How to 'unplug' from the 'system' to become more resilient
I figured that this is the best way I can serve you, but make the cost totally accessible.
Testimonials
"The past 2 years have been hard on us all in for a myriad of different reasons, I can say hand on heart that working with Carl through Consolidation to Breakthrough in 2021 and then the Coaching to Mastermind Group in 2022, has changed the trajectory of my life in a most astonishingly profound and unexpected way. I knew I needed support but I was unsure, how I would rise above the crush of my disillusionment, anxiety and need for change. Working with Carl, gave me the insight and the strength to realign with my core values and to commit to living a more authentic version of myself. He provided opportunities for me to acquire new skills and a new perspective on the world around me and my journey of self discovery was securely nurtured and supported under his experienced and compassionate mentorship. The intimate group communities that he created and the one on one coaching opportunities, kept me honest and accountable, while pushing me creatively, to design my own Hero's Journey. The weekly Zooms became beacons of connection during the week, and milestones in my journey to better myself, so that I can better serve those around me. I am very grateful for these experiences and for the friendships that I have been blessed to experience within them. Working with Carl, has been an investment in myself, that I don't regret for one moment and I would encourage anyone wanting to 'be more', to lean in to this opportunity. You deserve it."

Luanne Pollard, Educator, Australia (2021 & 2022)
"I don't even know where to start. This coaching process was a highlight in my life. Carl took us through a very intensive coaching process in 2021 with weekly group coaching sessions and monthly individual coaching sessions. The group was very homogeneous and all had one goal: Consolidation to break through! Carl stands for physical, mental and spiritual health. He has access to all areas and imparts great knowledge by sharing a variety of methods, book recommendations – including his own great books such as "The Successful Mind" or "Decision Making Mastery" . Perfect for me. I learned a lot about myself, my limiting thoughts and my visions during this time. We looked very closely. I now know what is important. I had some breakthroughs. My life is much more structured and somehow more certain of a plan. Above all, I am able to achieve a very good energy level every day, I live courage and joy in life much more consciously, also thanks to Carl's tools, which I use daily. My vision path has been trodden. Thank you Carl, I can recommend you and your work of a game changer."

Elke Rollinghoff, Lawyer, Germany (2021)
'I very recently completed Carl's 'Consolidation to Breakthrough Class' over a six month period. Although we are geographically displaced (Carl in Bali and I in Brisbane, Australia) this I believe actually provided an advantage. I did know Carl in a previous life, some 20 plus years ago when we both served our country in the Australian Army. Having said this, as life does, we hadn't seen each other for over 20 years. Following Defence, I went into a l life of adventure, public speaking and the like. I am privileged to have stood atop the world (summit Everest) amongst a number of large endurance events. However, as we all know life throws curves balls and, a few came my way … the last three years haven't been easy. Along came Carl, perhaps by accident, perhaps by fortune, perhaps by coincidence or even by just good timing and good fortune. I completed his 30 day challenge; it took me 60 days as I enjoyed it so much I did everyday twice … I was diligent in completing my routines (still do) and my worksheets.

Carl steered me to my now 4 rules (through literature he recommended). 1. Be impeccable with your word. 2. Don't make assumptions. 3. Do not presume and 4. Simply do your best. I was already good at 1 and 4 however 2 and 3 were severely lacking. Carl, through his zoom one on one sessions saw through me, called it as it was and worked with me. Sometimes in detail, others to a well received point. This man is a genius at what he does, he lives by his convictions and teachings. I can't thank him enough nor could I not recommend his counsel, thinking, professionalism and attention to his clients any further. He is the consummate professional in his trade. He lives his teachings. Do yourself (and those around you a huge favour) and enlist in a program with Carl Massy. Me, well I'm off to shoot the lights out once again, thanks to Carl Massy.

Brian Freeman, Adventurer (Climbed Everest), Australia (2020)
Bonuses Included
Bonus 1: 2 x 15 min (emergency) 1-on-1 Calls (VIP Option Only)
Bonus 2: 5 x Guest Presenters
Bonus 3: 5 x Paperback Books written by Carl Massy (VIP Option Only)
Bonus 4: Free access to any programs (online or live) hosted in 2024
Bonus 5: Free access to any online programs hosted in 2025
Bonus 6: A special 1-on-1 'Life Purpose Reading' with Kate Williams (VIP Option Only)
Bonus 7: 3 x Paperback books (Carl's favourite books) mailed to you (VIP Option Only)
Bonus 8: A 14-day Traditional Hatha Yoga Kriya to balance the Autonomic Nervous System (this is life changing)
Bonus 9: Learn a Traditional Yoga Kriya (and pranayama) technique to protect your body from EMF's and negative energy
Bonus 10: Regular guided meditations from Carl
Bonus 11: Guidance through a detoxification process and dietary modifications to increase mental clarity & vitality (this is life changing too)
Bonus 12: Belief Switch guided meditations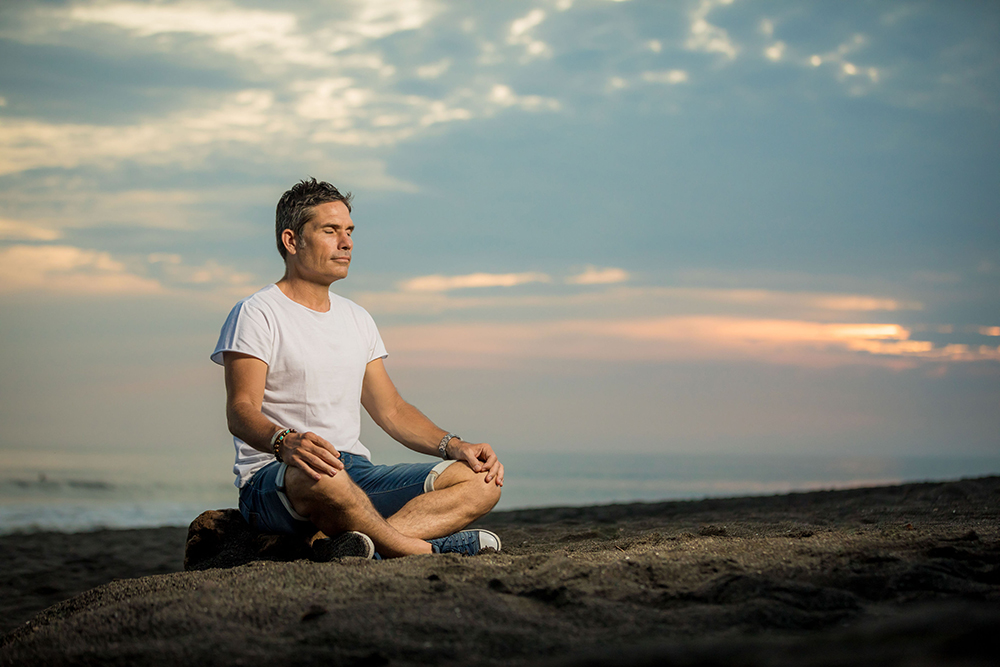 Some of our Guest Presenters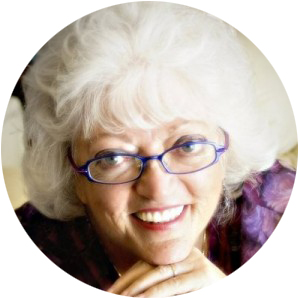 Diane McCann
Diane has been in the personal development field for longer than I (Carl) have been alive. She has been an amazing mentor for me, as she has so much knowledge, experience and wisdom to offer. Diane has been running three powerful retreats for over 30 years (The Goddess Within, Man's Inner Journey and Tantra for Couples ) as well as bringing wellness leaders to Australia to offer their teachings – like Dr Darren Weissman and The LifeLine Technique. She also promoted Robert Kiyosaki (author of Rich Dad, Poor Dad) in Australia for a number of years.
Due to Diane's broad skillset and experience, she will teach what is most needed and desired by the Group.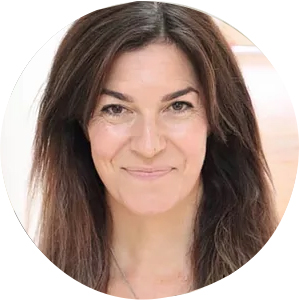 Kate Williams
I had the joy of meeting Kate a number of years ago, when I was introduced to her work specialising in 'Life Purpose' Readings. Kate is a psychic channel, so I was fascinated by what she could tell me about my life purpose, given I had never met her before. She blew me away. She described what I did, when coaching, better than I do. So I knew she was the real deal, and now pretty much everyone in my inner circle has had a reading.
For this program she will be doing a 1-on-1 Life Purpose Reading with VIP & Gold packages.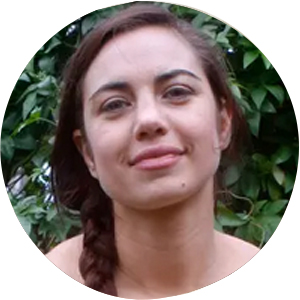 Kristy Obst
I met Kristy almost 10 years ago when she was apprenticed to me as a Coach. At the time she was a successful personal trainer, and since then she has gone much deeper and broader with the Coaching, personal fitness training (including studies with the Chek Institute) and over the last couple of years Kristy has gone much deeper with spiritual practices, intuitive work, sound healing and clearing emotional blockages.
Kristy specifically does an online Cacao Ceremony for the group, as a transition from Consolidation to Creation, to open up the heart and centres of creativity.
Octavio Salvado
Octavio is the Founder of The Practice yoga centre in Bali, which specialises in traditional tantric hatha yoga teachings – both in the studio and online. I was fortunate enough to work with Octavio for 5 years at The Practice as one of the co-owners, and as a presenter on his Yoga Teacher Training Courses. Octavio has done the very deep dive on Yoga over a couple of decades and brings the traditional teachings and essence to all his work. He has also had amazing teachers over the years who have passed on a wealth of knowledge and experience, which he shares in his own unique way.
Octavio will be teaching us about (real) yogic practices.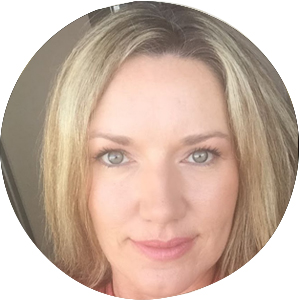 Katrina Hueskes
Katrina has been one of the most important people in my life over the last 5 or so years. Katrina is a Certified LifeLine Practitioner, teaching the technique developed by Dr Darren Weissman, a chiropractor, teacher and Hay House author. And I have been the very grateful recipient of numerous sessions with her, as she helps me untangle what was mostly unconscious to me. Katrina brings so much love, non-judgement, playfulness and determination to her sessions, that she has been a part of changing the course of my life.
Katrina will be doing a Group LifeLine Session, which I know will create a shift for everyone in the group.
Note: The Guest list may change slightly as we go through the program and I determine who would be the best Guest speaker (skill set) and voice to support the outcomes of the group.
A Summary of THE Offer
6 x 90-min 1-on-1 Sessions (VIP Offer)
2 x 90-min 1-on-1 Sessions (GOLD Offer)
20 x Group Coaching and Mastermind Sessions
Access to the LIFE MASTERCLASS Online Seminar
Coaching through Become a Natural Superhuman Program
Coaching through Ignite Your Inner Greatness: A 30-Day Challenge
1-on-1 'Life Purpose Reading' with Kate Williams (VIP Offer)
2 x Cacao Ceremony by Kristy Obst
Training & Coaching through ancient Yoga Kriya's
Coaching through a detox process & major health audit and upgrade
Special Guest Speakers x 5
Copies of my 5 Books (VIP Option)
A number of books to support the journey (e.g. Power Versus Force by Dr David Hawkins & Your Money Or Your Life by Vicki Robin) (VIP Option)
(Very) Open Access to Carl and deep support for 6-months (including a Closed Online Group)
2 x 15-min emergency calls (VIP Option)
EXTRA BONUS for VIP Option (if interested): Coach Training Methodologies + some basic NLP Techniques
TOTAL VALUE: WELL over US$ 10,000
My Special VIP Offer for 6-months: US$ 3,997!!
Note: The reason that the price is so accessible is because I live Bali, I like the principles of stoicism, and I don't spend money on stuff I don't need. We will definitely be focusing over the 6-months on what exactly "conscious living" means (and how much money is your "enough and then some").
YOU CAN CHOOSE A VIP, 'GOLD' OR 'SILVER' OPTION
VIP and Gold include all the group training, Mastermind and Q&A sessions, online programs, support through traditional yoga kriya's and fasting, open email access to Carl, online group access, Guest presentations, plus a bunch of extra's.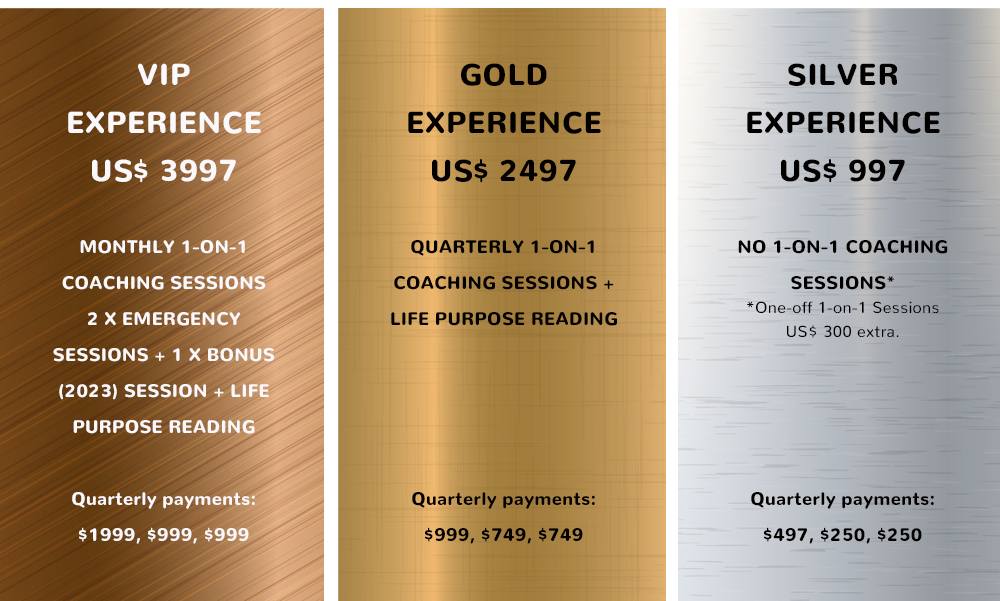 So would you like my guidance, support, coaching, consultancy & access to me for 6-months in 2024?
I am all in if you are. Let me share what I have learned over the last 54 years.
The program will start on 1 April 2024.
SAVE $500 if you pay a Deposit by 31 December 2023!!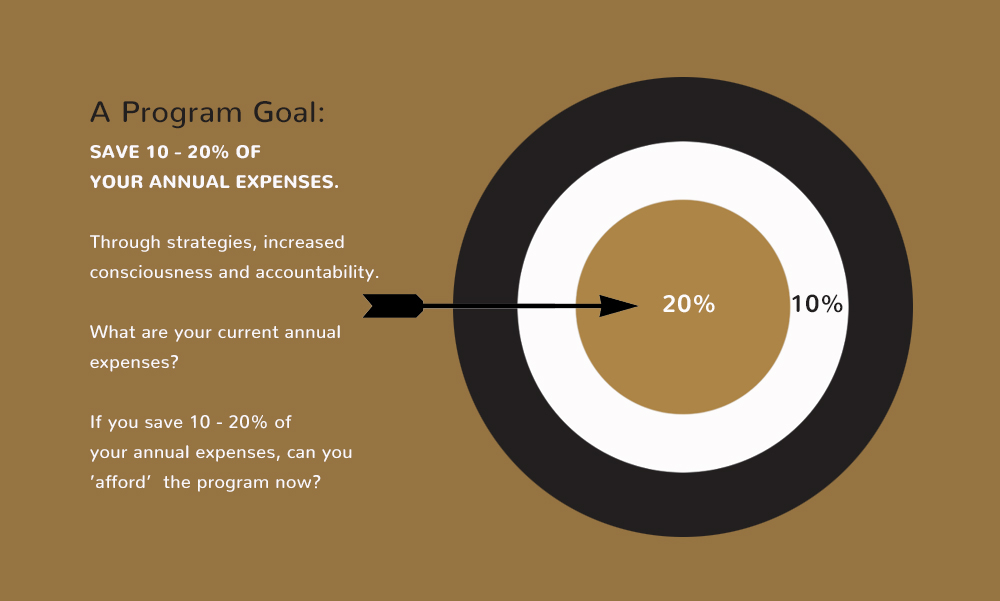 Over the last 16 years I have Coached:
Multi-millionaires, business owners, UN workers, actors, elite athletes, olympic gold medalists, coaches, CEO's, single mum's, entrepreneurs, yoga teachers, retiree's, managers, farmers, personal fitness trainers, and everyone in between.
And without sounding like a total whack job; I actually thrive in any form of crisis (e.g. the whole corona virus thing). Maybe it is the 14-years of the military training, or the 5 years working in security and anti-terrorism for mega events, or the 12 years as an entrepreneur (where there is always lots of uncertainty). Either way, I will be the calm voice of reason for 6-months of your life.
You can download my Professional Bio here
I have also been a business owner in my own coaching business (for 14 years), plus co-owner in a boutique backpackers in Bali (where I learned what 'not to do') and a successful yoga centre (2015-2019). Plus I have hosted seminars in Bali, Germany and Australia, and conducted numerous online training workshops. And I have been speaking in front of large groups since I was 20.
Testimonials
During COVID I started to struggle with anxiety and a lack of purpose and decided to join Carl's Becoming a Superhuman program. I'd never done anything like this before and was very much right at the start of my journey to discover who I am. After 9 months of this program I'm finishing the year a changed person with a very different perspective on life, different beliefs and much more clarity on my purpose. Carl is so sensible and pragmatic, I felt completely comfortable opening up and sharing with him, I never felt judged and he provided so much insight and support. Over the course of the year I had so many 'lightbulb' moments and really start to understand why I behave or react in the way that I do. I also benefitted so much from the group sessions, and being the younger member of the group and much more at the beginning of my self-discovery journey, I got so much encouragement, insight and learnings from the others. It was an incredible and life-changing experience for me and for anyone looking to find more purpose, direction and peace in life, I highly recommend Carl.

Marianne M, Marketing Specialist, Switzerland (2022 Participant)
Carl is a living example of the kind of life he inspires others create. It is so inspiring to work with a coach who has actually practiced what he preaches. He is deeply knowledgeable and practiced in so many modalities that he has been able to help me find my way through so many different things. Perhaps my favorite thing about Carl, though, is that he is simultaneously deeply loving and fiercely challenging. He sees straight to the heart any matter, stands for my ability to succeed, and doesn't put up with any excuses. I come out of ever session feeling stronger, inspired, and more empowered, every time.

Leah Pearlman, Author of DharmComics.com & Co-Creator of the Facebook Like Button. USA
Sometimes things happen completely different than you expect…..I went into my coaching session with Carl with some idea in mind of what the result would be, and came out with something much better but totally different. He called me on my bulls*it, opened me up to possibility and shifted the way I look at certain aspects of my life. He showed me where I had been creating 'stories' and how these were limiting me, and gave me a new way of moving forward in my business and life. I've done a lot of work on myself. I'm renowned for over analysing and for diving deep into my psyche. I revel in looking into my darkness and staring it straight in the face. Yet somehow in the limited time we had together, Carl managed to shift some of the old paradigms I have carried for a long time, and give me access to an understanding of self I would not have been able to do alone. It was humbling and confronting and cathartic and I will be forever grateful.

Cassandra. Yoga Teacher & Retreat Leader. Australia
Sometimes we want to change things in our life, but we're not sure how to deal with them. We have doubts about everything but unfortunately also about us. This is where Carl has helped me succeed the first time. Teaching me how to be more courageous, how to gain self-confidence. Now he helps me with professional and personal growth, supporting me with his wisdom, experience and strategies. His empathy, capacity of creating an environment of trust and non-judgement and his flexibility are remarkable. Don't be afraid of asking for an extra help when is needed, I'm sure he can help you.

Sara. Head of Digital Marketing. Spain
FRAMEWORKS we will be Drawing Upon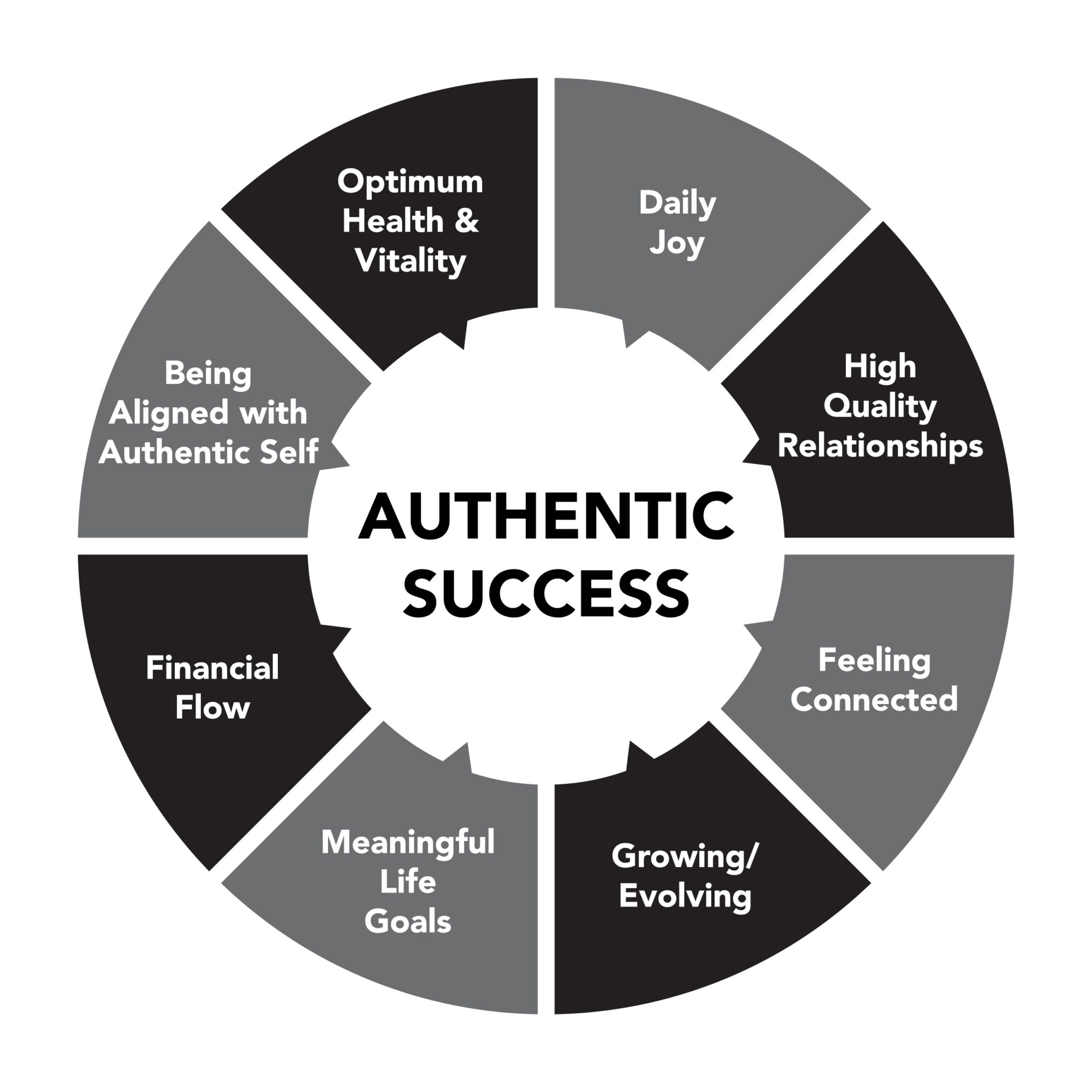 My 3rd book was called The Guidebook to Authentic Success, and it focuses on the idea that success is not success, if it just not take into consideration all elements of what makes an authentically successful life experience.
So we will be looking at these 8 specific elements of your life to ensure that each of them are being considered. We will do this through activities, 1-on-1 coaching and also through reading specific books that go deeper into each category.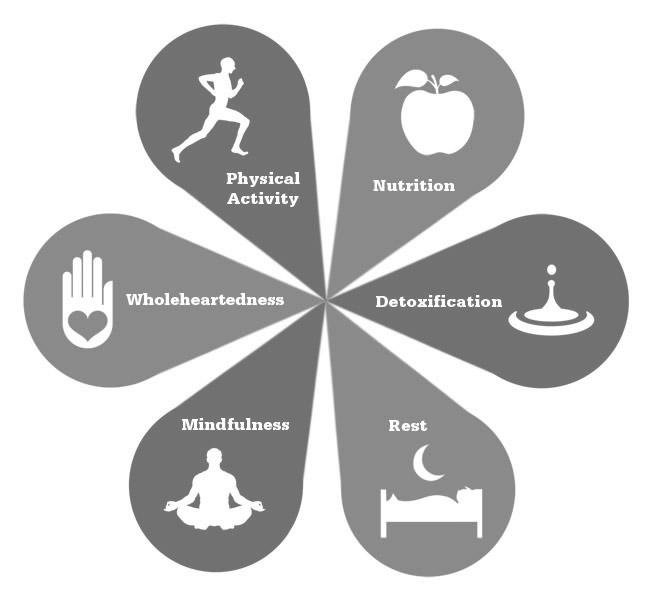 When it comes to you experiencing 'Optimum Health' there are 6 principle 'pillars' we will be focusing on, based on my book – The Guidebook to Optimum Health.
Over the 8-months we will be working together, there will be a strong focus placed on your personal health and vitality. Essentially if you do not have great health, vitality and energy, you will have a harder time achieving goals at a higher level, or being able to manage adversity and the inevitable challenges in life.
Some of the Teachers and Teachings I will draw upon
Sir David Hawkins, M.D., Ph.D.
He was a nationally renowned psychiatrist, physician, researcher, spiritual teacher and lecturer. Rarely, if ever, has an advanced spiritual state occurred in the life of an accomplished scientist and physician. Dr. Hawkins is uniquely qualified to present a spiritual path that is also scientifically compelling.
Throughout the program we will be working with his teaching around 'levels of consciousness' in particular, getting to the state of 'Courage', which is considered to be the transition point into accessing more 'power', rather than attaining things in life via the continual and tiring use of 'force'.
Everyone will have a (free) copy of this book mailed to them as an essential part of the program and teachings. We will also do extensive work with his technique of 'Letting Go'.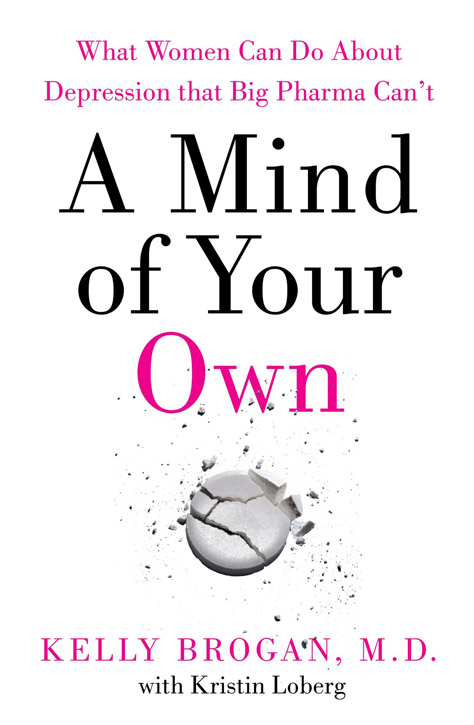 Kelly Brogan, M.D.
Kelly Brogan, M.D. is a holistic psychiatrist, author of the NY Times Bestselling book, A Mind of Your Own, and co-editor of the landmark textbook, Integrative Therapies for Depression. She is the founder of the online healing program Vital Mind Reset, and the membership community, Vital Life Project. She completed her psychiatric training and fellowship at NYU Medical Center after graduating from Cornell University Medical College, and has a B.S. from M.I.T. in Systems Neuroscience. She is specialized in a root-cause resolution approach to psychiatric syndromes and symptoms.
This book is a practical guide to making the lifestyle and dietary changes to best support a highly functional mind. Everyone will get a copy and we will be focusing on some of her protocols over our time together, to improve the awesomeness of our minds and bodies.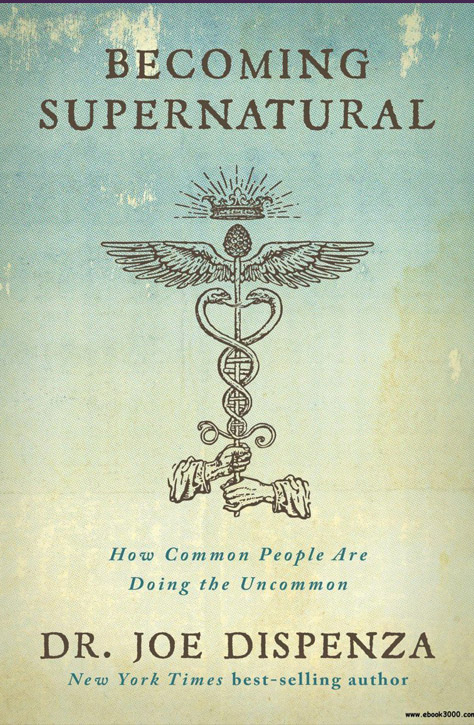 Dr Joe Dispenza
Dr Joe holds a Bachelor of Science degree and is a Doctor of Chiropractic. His post graduate training includes the fields of neuroscience and neuroplasticity, quantitative electroencephalogram (QEEG) measurements, epigenetics, mind-body medicine, and brain/heart coherence. As a researcher, lecturer, author, and corporate consultant, his interest lies in demystifying the mystical so that people have all the tools within their reach to make measurable changes in their lives.
We will be drawing on the vast amount of real-world research undertaken by Dispenza and his team. I (Carl) personally have attended two of his week-long retreats and have experienced the power of his work with deep guided meditations, energy work and I have personally witnessed incredible healing through his work on the inner landscape and the electromagnetic field of the body.
'The field influences the particle.' Albert Einstein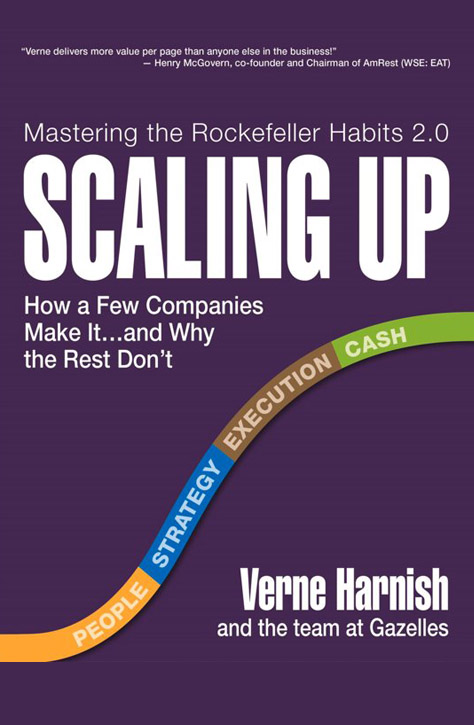 Verne Harnish
If we get to talking business, I will probably recommend you check out this book, as it is pretty well packaged and is very practical (which is essential for me to like it).
It goes into the 4 major components of business, and regardless if you are about 'scaling up' a business, the reality is you need to have a solid business, before you can scale up. So essentially the book is about how to create a solid business.
I am also likely to reference or recommend a few different business-related books to check out in the un-skilling in business department.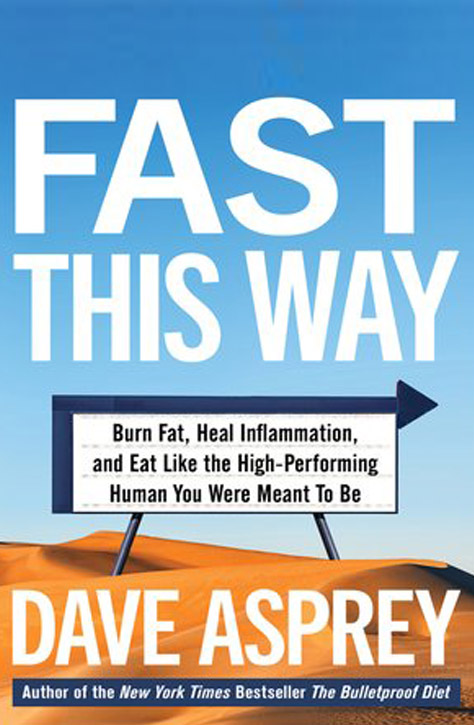 Dave Asprey
Over the last two decades Dave, "The Father of Biohacking", has worked with world-renowned doctors, researchers, scientists, and global mavericks to uncover the latest, most innovative methods, techniques and products for enhancing mental and physical performance. Dave has personally spent over $2 million taking control of his own biology – pushing the bounds of human possibility all in the name of science evolution and revolution.
We will be looking to do a 3-day water-only fast over the 9-months, so we will be using information from Dave Asprey's biohacking work. It is an amazing 'reset' for the body, and incredible for so much more.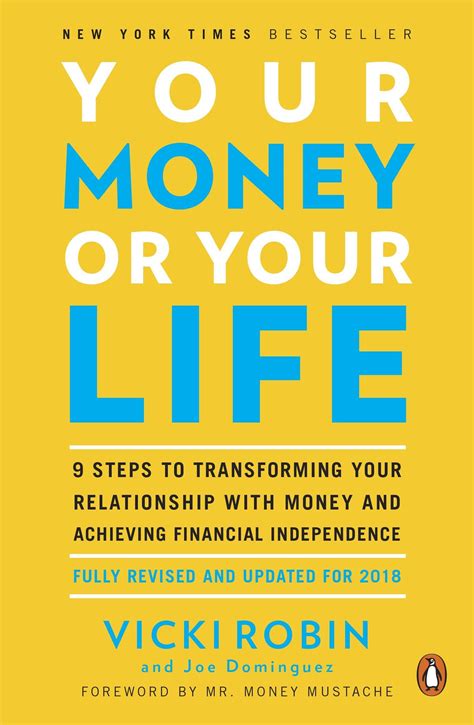 Vicki Robin
This book is based on a great philosophy – not just a get-rich ego-driven scheme – and very practical steps.
We will be doing the 9-steps of Robin's program over the 9-months we will be working together. The aim is to take you towards Financial Independence, and Financial Integrity at a whole new level.
The most common outcome for people following the program is a reduction in expenses by at least 20%…which means more cash in your pocket and might just pay for your coaching through this program.
Terms & Conditions
There is a cooling off period of 7-days after the deposit or first payment, in which time you can get a 100% full refund (minus any transfer fees).
The deposit or first payment is non-refundable after the 7-days cooling off period.
The Payment Plan is three (3) separate payments paid at the start of the program, and then every 2-months for the final two (2) payments.
If you pay the 'deposit' of US$ 500 before 31 December 2023, you will get a special discount of US$ 500.
You (the participant) are required to pay any bank transfer fees. I recommend using Wise.com (if you are transferring internationally), as their fees seem to be the most reasonable.
If you paid in FULL and choose to stop the program in the first 2-months, you will get a 50% refund on the full amount paid.
If you have paid in FULL and choose to stop the coaching program after 2-months, you will not receive a refund on any money you have paid.
All three payments are non-refundable (except for the 7-day cooling off period for the deposit or first payment).
If you are consistently disruptive to the cohesion of the group or repeatedly fail to attend the Group Coaching Sessions, I (Carl Massy) reserve the right to terminate our coaching relationship prior to the end of the 6-months. In this case you may receive a partial refund (based on time spent in the program) minus an additional 'disruption fee' (US$500).
I will maintain a Waiting List once the 8 places are filled, in case someone drops out. The offer to join the group will go to the first person added to the waiting list, and follow on sequentially, based on the date the name was registered. No new members will join after month 3 in order to respect the cohesion and intimacy created by the group – unless there is a collectively agreed exception.
The start date will be: 1 April 2024.
The 'Free Access to any programs in 2024' does not include multiple-day Retreats, though special discounts will apply.
With the 15-min emergency sessions (VIP Offer), if you do not use them, you can use them as a credit after the 6-month program is finished. However the credit can only be used once (e.g. if you have not used any of the two 15-min sessions you can have a 30-min session after the program finishes, but you cannot use them as 2 x 15-min sessions. They are only able to be used as a collective block and they must be used within 3-months of the end of the program.
---
FREE TRAINING: What to do when you feel like you don't have a choice.
This (30-min training video) is what I teach my private Coaching clients, when they feel like 'they don't have a choice' and for those that have not worked with me before, this training will give you an idea of my philosophies, teaching style, plus my knowledge and experience.
I also speak a little more on the framework of the 'Become a Natural Superhuman' Program you will be undertaking.